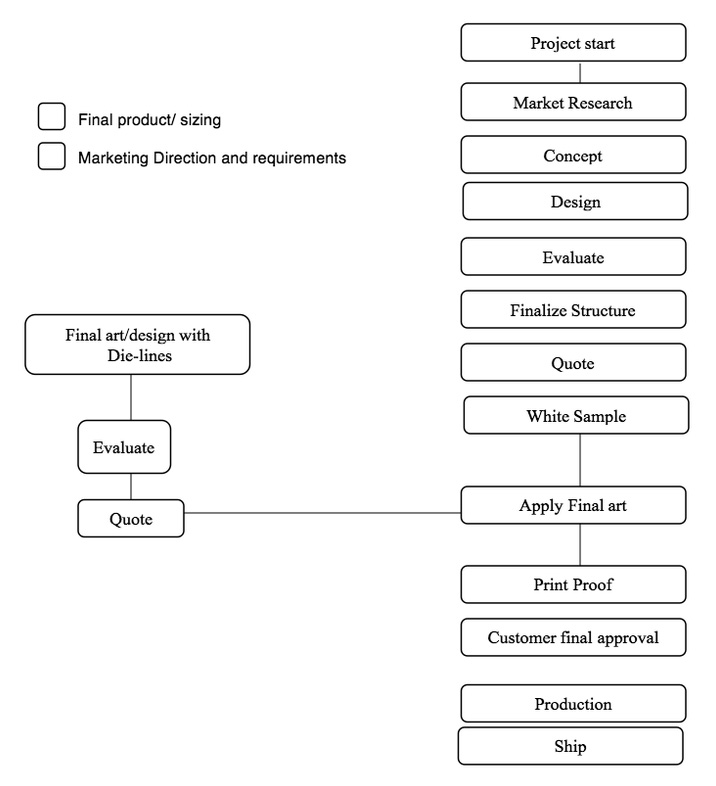 Basically you have two Process Flows


Once we get the Final Product and Marketing Requirements-
1.We build the packaging from concept to production. (this is the preferred process)
By developing a project from the start we can reduce variables and limit any missing information up front so we can locked down the project for Production. (Review step above)
2.We take a design that already exists or has been packaged for production.Then we evaluate and fill in any missing information in the design package. Then we quote , confirm print , and run production.

We offer white and full color sampling for our clients ,one off or small sample runs.
Setup Boxes

Folded Boxes

Bags /Mailers

Thermoform Plastics

Tubes
etc....
Step 1: Set up the file and define the finishes and materials needed to run samples.
Step 2: Once defined it will take 6-8 days to produce color samples 2-3 day for white sample*.
Step 3: Ship*
General Charges for samples :
Unprinted Sample_It will depend on complexity. In general ($200 + shipping)**
Printed Samples_Would also depend on complexity but would also add cost of process and finishes. In general.( starts at $250+shipping)**
*Shipping term to be determined, contact for final terms and quotes .
*Sampling cost can be absorbed in part or in full depending on production.